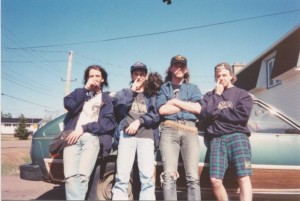 The good ole days of Rounded Edges. I formed this band sometime after returning from Saint John in 1993. We lasted about a year and a half, played a bunch of shows, jammed a lot, and had a good time. It was never meant to be too serious but we all enjoyed music and enjoyed playing so why not make something of it.
The original concept was to form an accoustical death metal band that would be unique. I knew then that the idea would never work but I just wanted to be in a band and have some friends jam together and all of us enjoy it. That's what it was really about. I do know that because I was so heavily involved with the music scene at the time, that I wanted to have the perspective of being a member of a band as I would be able to see and experience things differently than someone who is just producing a band. Later on, my experience with Rounded Edges would greatly help me in producing and recording bands.
When the band formed, it consisted of these members:
Matthew Klem, Vocals, Accoustic Guitar, Keyboards & Frying Pan
J.C. Chiasson, Guitar
Ken Reade, Drums, Guitar
Chris Goldsmith (Cheez), Drums, Guitar, Vocals (on Backseat Driving)
We jammed as this lineup once at Ken's garage and actually recorded our demo the same night. It may sound outrageous and it was as we had no real experience. We had played a few somgs together on and off and had some ideas so the demo was more of a compilation of ideas and so forth, but it still was released as our first demo, "Songs To Get Drunk By"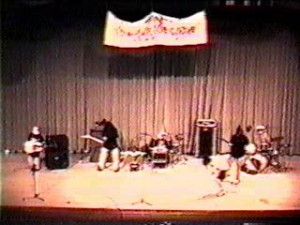 It wasn't long after releasing our demo and doing a few sort of half jams and working on a bit of music that my good friend Jason Hyslop moved back from B.C. He joined the band as an additional bass player while another friend of mine joined as an additional guitar player. With a line up of 6 people, we thought we would have had more music and stuff but it never really worked. We did however slowly work on making some new music and songs.
Cheez had written a song as an ode to McDonald's of sorts called Rotten Ronnies which was actually a parody of another local bands song called Choo Choo Train. Anyone who remember Skinkeeper will remember Choo Choo Train. Hanging Above appeared on our first demo as a ballad of sorts, and Jason applied electric guitar to this instead of accoustic and the song became our "hit" of sorts. It was a very easy song to play, people liked it, and we enjoyed playing it.
We played our very first show at Moncton High. It was, interesting. "The Gong Show" would prove that we had no real talent and just wanted to have fun. After being kicked off the stage for yapping too much, we came back to play "Virgin Bride" which consisted of us making as much noise as possible. With my screaming, Ken's pounding of the drums (resulting in them being in pieces by the end of the set), and our guest bassist Sandy Leclair playing REAL bass sound, we got a good laugh, and a few boos out of the audience.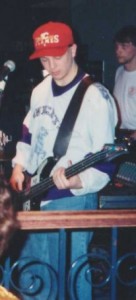 Eventually, we made some changes and moved forward with some of our ideas for songs. We managed to get a full line-up (7-10 songs maybe?) of stuff that we could practice and play. Eventually, Jason Hyslop joined the band as a bass player, and Chris Clarke joined as a guitar player. Ken & J.C. switched positions and J.C. started playing drums. He would remain there until we disbanded.
Shortly after a VERY cold jam in Shediac, Chris & Ken left the band. It was more about interests than anything. We were all still friends they just had other things they wanted to focus on. So, Jason switched to lead guitar, Cheez was on bass, J.C. was playing drums, and I was singing. It was basically 4 good friends in a band having a good time. Ken contributed to a couple songs on our second demo and was listed as a "special guest"
After hopping from place to place for jams, we got a lot of practice in on our tunes and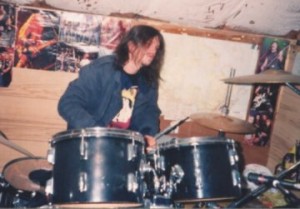 "Hanging Above" was revamped into a good ole rock and roll song. It became our "hit" you could say. Anyone that knew us, knew that song. There were other good tunes like "Reign Of Lies" and "My Thoughts Invade Me". I remember Thoughts specifically because it was born in about 5 minutes. We jammed at our friends place and Jason & J.C. were just making stuff up and came along with this one riff, which within 15 minutes, turned into a full song. Very catchy, very flashy, and very cool.
We never played a full show on our own. It was always jam nights. We'd play a couple of tunes and people seemed to really get into the music. We practiced a lot and then finally decided to record a real demo. One with decent songs and stuff that people might actually enjoy.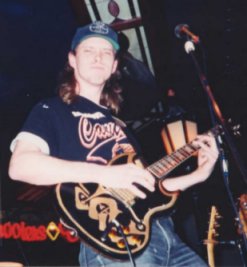 "Counter Clockwise" was our second demo. Unfortunately, it never hit the streets. It was put together but then we had some issues with getting copies made, and then we wanted to re-record some of the material, and at one point, the master copy was lost. In the end, we only had a track or two released on the Six Feet Under compilations. I would later compile all of our material and do a CD for just us band members.
Near the end, we were getting a lot better, and experimenting with different ideas and sounds. Unfortunately, as time goes by, people sometimes drift apart, and that's sort of what happened with us. Cheez eventually left the band because he was too busy with work and other activities. Me, J.C., and Jason stayed pretty tight for awhile but eventually, we played our last show at Slater's on Elmwood Dr. It was the only time we got to do our "Bacon Cheddar Curly Fries" improv in the middle of "Hanging Above". We got a good laugh out of the crowd for that one.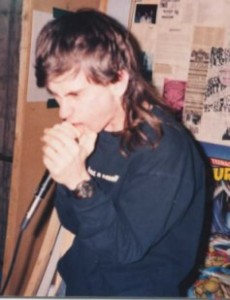 There was no animosity, just changes in lifestyle that ended the band. J.C. & Jason went on to do their own jamming with the music after awhile, and I stopped completely. I always wanted to go back, and still think about doing it, but never do. Rounded Edges was just one of those things that we did in our youth, and it was a lot of fun.

In May of 2004, we got together to do a 10 year reunion jam and man was it a lot of fun. We managed to somehow get through all of our old tunes and even jammed some stuff we never jammed before. It was pretty interesting. We did a bit of changeup with J.C. & Jason switching spots and trying some of our old tunes with a different sound. It was an awesome time and we all enjoyed ourselves quite a bit. The infamous MDP guitar played it's final tune when me and CHeez did our rendition of Backseat Driving, and our final song, The Honeymoon's Over, finished with the guitar being smashed across the floor. It was a nice fitting end to a wicked jam.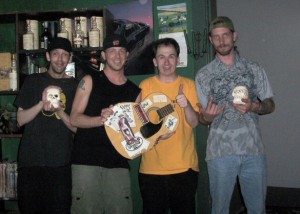 On a rather sad note, in February of 2007, J.C. passed away due to heart complications. He was living in Montreal and was surrounded by his family. We were all very sad to hear of his passing.