On November 29th, 2010, I boarded Air Canada flight 8931 and began the long journey that would end only two days later. However, what happened during that brief stay in Hollywood, California would remind me of a great many things, including how lucky I really am.
Anyone who has known me any length of time has known my adoration of the band Faith No More. In many ways, this is a band that actually shaped and defined part of my youth. Between high school and college, and the VAJ years in between, Faith No More was a staple band that I listened to on a daily basis. In fact, I had a rule for a long time that no mixed tape of mine would go without at least one FNM tune on it. My almost worship of the lead singer Mike Patton bled into my daily life. I dressed like him at times. I sang like him at times. Hell, I even thrashed and flopped around on the floor like him more times than I can remember. But beyond all that, it was Faith No More, and more specifically Mike Patton, that helped get me through much of my oddball youth.
In 1990, sitting in the living room at J.C.'s house on Church street, I watched this video on his TV and was introduced to the world of Faith No More. Upon watching the video, I recall telling my good friend Chris that the singer looked like he was baked. A quick come back, he retorted that the singer, like much of the rest of the band, were anti-alcohol and anti-drugs. The band took a more unconventional approach in that if they wanted to be retarded and crazy on stage, they didn't need substances to do so. That moment struck a chord with me in such a way that it inspired me to take on much of the same persona as their lead singer and much of the band did in those days. Why not stay clean and just have fun anyway? I did. Anyone who remembers knows of many of the silly/retarded/crazy things I did and it all without any sort of inhibitor releasing drug or fluid. I may have mellowed in my old age, but to this date, I still have yet to ever have a drop of alcohol. It is from Faith No More that this, and chunks of the person I grew to be as an adult, has come from.
The days of flopping on living room and gymnasium floors, wearing moose slippers and wigs into Tim Horton's or the mall, running through the streets asking "WHAT ABOUT THE CHILDREN", waving to strangers, twitching and acting like a complete and total basketcase, and countless other "odd" but fun times all inspired by a band who's music and antics seemed to make so much sense at a time in my life when not much else did. It is for those reasons that Faith No More has always been  extra special to me.
Last year when I heard the rumour that Faith No More were reuniting, I immediately wanted to get on a plane and fly overseas to go see them. Unfortunately, money was tight and it wasn't going to happen. Instead, I sat in my office, watched their Download show in the UK stream live. I cranked the music up so loud, and stayed in my office singing and enjoying something I had almost forgotten about. At 36 years old, I felt like I was 18 all over again. I knew that I wanted to see them perform one last time but the few shows in the US they had did not line up with times I had available. It didn't look like it was going to happen. I was ok with that albeit a bit disappointed.
Then as luck would have it, they booked a show in LA and said that it would be there last North America date. Ever. This was it. Once the reunion tour was over, the band would go their separate ways again and there would be no additional albums or other reunions. Many folks had speculated that a new album would follow but after a series of interviews made it perfectly clear this was it, I only had one shot if I wanted to see them play again. I made the decision to head out and see them again using my frequent flyer points. I hit up my friend Gary Gallant, former singer of Tormented, asked him if he wanted to go. After working out the details, we made plans and flew out this past Monday.
Leaving Moncton, I didn't think much about the show other than I was excited to be going. I didn't think of it as anything other than just a show and some sight seeing while there. It wasn't until after the show, and getting home, that I realized it was so much more to me than that.
The trip there consisted of two flights: one from Moncton to Toronto, and one from Toronto to LA. Having flown many times, I was prepared for the lengthy trip but with a two hour layover in Toronto, I figured we'd have some time to relax before getting on the next flight. This was not the case at all.
Our flight from Moncton to TO was delayed by 20 minutes or so. We landed and made our way to customs where we stood in line for what seemed like awhile but in fact was not that bad. We got through customs and onto security and by the time we actually went through the x-ray machines, an announcement summoning folks for our LA flight had come over the intercom. We made our way to the gate and they had already started boarding. So much for a little break. Four and a half hours later, we landed in LAX ready to take on Hollywood.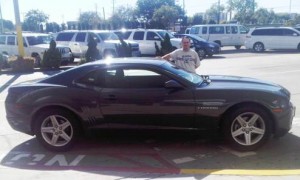 Now, I had used points to fly us to LA for about $175 each (taxes). I also got Tamara to book us a car through Air Miles. We took the shuttle to the rental car agency and were going to pick up our compact car. Since it was booked on points, all I had to pay for was the taxes. The guy at the counter asked if I wanted to upgrade and I said I was curious about how much it would cost. He said it depended on the vehicle and then asked if we wanted to upgrade to a 2010 Chevy Camaro which we had seen as we walked into the agency. When he said it would cost us $70 for two days, it was a no brainer. We got the car, packed our stuff in the trunk, and hit LA Hollywood style.
We literally had no specific location to go to so we just drove around. We eventually headed into Beverly Hills to check out the sights, and that eventually brought us to Sunset Blvd where we drove down and checked out many of the shops. We started getting hungry so we parked the car at this little mini-mall spot and went to grab some Thai food. Talk about good food. Since we were in the area, we took a real long walk down Sunset where we popped into the odd shop here and there, and eventually came back down Hollywood Blvd.
Lots of shops, lots of people, and of course lots of stars on the walk of fame. Took a few photos here and there and eventually ended up at the Chinese theatre where we took more photos, talked to a couple of locals, and then kept on trucking. This brought us in a complete loop to the street we had eaten on so we picked the car up, and checked into the hotel. The W Hollywood.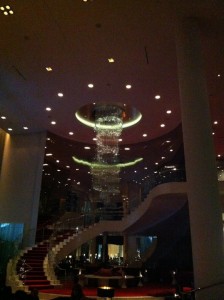 In making my travel arrangements, I wanted to try and get a "nice" place to stay. Somewhere that was at least somewhat reputable and would not be anything like the last place I stayed at when I was in LA. I had wanted to use my leftover points to get a hotel but I didn't have enough for a single night. I had Aeroplan and Starwood points but they couldn't be combined. There was a hotel right around the block from the concert hall which was available with points but, I was short by a few. So, I paid out the money to buy enough Aeroplan for a single night. I then bought enough Starwood points to top off for the next night. It cost me a little over $200 for the points to book the hotel, BUT when I checked the amount of a room for two nights at full price, it was $650!!! Talk about expensive. The hotel looked nice on the website, but when we pulled up and walked into it, I realized why it was that expensive.
Wow. Talk about high end. This was a VERY nice hotel. Huge lobby and very well done. We got up to our room and although it was a regular sized room, it was still very nice. Marble shower with glass doors, two huge beds, 42″ LCD flatscreen TV, and all the bells and whistles you needed. One of the ways you can tell how high end a hotel is, is by the room service menu, and by how much stuff in the mini-bar costs you. One bottle of water: $9. One can of Pepsi: $5. A steak: $38. And on top of all that, they had a menu specific for pets. Yes, pets. We had landed us one hell of a nice spot to stay and the best part was that it was literally beside the venue we were going to. This was going to be awesome.
But, the room had nothing on what would happen next…
After unpacking and putting our feet up for awhile, we decided to head out and get us some food. We walked out the front of the hotel onto Hollywood Blvd and were not sure where to go. We had already been down one part of it but we decided to go back to that area and see what we could find for food.
Walking along the boulevard, we were sort of half stopped beside this restaurant. As me and Gary both looked into the window of the restaurant, we noticed a man with long grey dreadlocks. Upon further inspection, it was Mike "Puffy" Bordin from Faith No More. Sitting there with Jon Hudson, the two of them were having supper. Me and Gary very quickly decided that we were going to have supper at the Juicy Burger.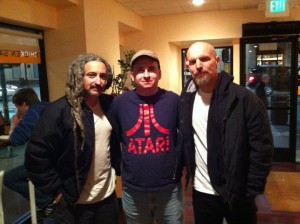 We ordered our food, and sat down literally at the same "bar" where the FNM guys were. We ate our food and pondered how to break the ice or what to say to them. As Puffy went to go for his coat, Gary spoke up and introduced himself. We then proceeded to have about a 10 minute conversation with Puffy and Jon talking about shows, how far we had come, having seen them before, and a ton of stuff. Puffy told us to expect to hear some really old songs at the shows. They posed for a few pictures, said thanks for coming out, shook our hands, and were on their way.
What were the odds of that? Of all places for us to just walk by and see them in there. It was an absolute huge high for both me and Gary to have the chance to talk to them. We were feeling pretty elated and weren't even sure what to do next. We finished off our supper, picked up the car, and went for a drive.
We actually just wandered around quite a bit. We ended up in the middle of some neighborhood WAY up on some hill in the middle of nowhere. After coming out of that, we eventually made our way to Santa Monica where we checked out the pier, saw some sights in the area, then headed back to the hotel where we crashed for the night. I had been awake for more than 24 hours straight so I was ready to get some Z's.
The following day was actually pretty uneventful. We spent some time digging through the Hollywood hills to find a couple of good spots to take photos of the Hollywood sign. I had found this spot on Google Street View which was near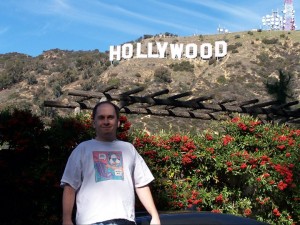 one of the places recommended on some other site I had found. It was a pretty neat neighborhood so we parked the car and stood on the door to get a couple of good photos. I had brought my handheld GPS for geocaching and stumbled upon this spot on Google Street View which was near one of the places recommended on some other site I had found. It was a pretty neat neighborhood so we parked the car and stood on the door to get a couple of good photos. I had brought my handheld GPS for geocaching and stumbled upon this cache which gave us what would perhaps be described as the absolute best possible view for the sign. There was this tiny little path hidden by trees between two houses and a whole lot of NO TRESSPASSING signs around. Despite the signage, I walked down the path to find a WICKED spot for a photo. Way better than any other place I have heard of by far. It was definitely a very cool spot to find.
After that, me and Gary proceeded to do a little shopping for the little ones. Between Walmart and Toys R Us, we picked up some toys for the kids, grabbed some food from Jack In The Box, and gobbled down as much as we could at the hotel before proceeding to the show. We knew we'd be waiting in line awhile but we were not interested in being there absolutely first as we were not planning on trying to go for the front of the crowd.
We got in line and talked to a couple of folks. T-shirt guys were out pitching unofficial shirts at dirt cheap prices. I opted to skip those and get something from inside but it was nice talking to some of the locals. What was even more funny was the fact that someone said they could tell we were Canadian because we were the only ones in T-Shirts and shorts. Gary had worn a t-shirt and shorts, and I had my jeans and two t-shirts on. It was about 12 degrees out so for us, it was fine. But for the locals, they were all dressed in sweaters, jackets, and hoodies, all shivering. It was quite funny to see.
By about 6:30, the line had moved to bring everyone near to the door. At 7, they padded us down and let us in. I bought two t-shirts and Gary bought a hat. We headed into the main room where we quickly took a position on the left side balcony where we had what I would refer to as the best spot in the house. No obstruction of the stage. No one in front of us. It really was a perfect spot.
There were a couple of opening acts. There was some dwarf lady who came out and did some really awful stand up comedy. I chuckled at a few jokes and really just endured it long enough to see her finish. That led to another non-musical act coming out and doing a sort of kids magic show. Nothing too spectacular but different to see as an opening act of a band like Faith No More.
Then the Creepy Creeps came on. I gotta say, the only real things about this band I liked were the half-naked dancers on each end of the stage, and the fact that the keyboard player REALLY got into playing. They talked a lot to the crowd and although the music wasn't my cup of tea, they did put on a good show. I did however just want FNM to come out and get on with it.
When they finished, their gear was taken down and a LOT of checks to the stage and gear were done. I think something had either gone wrong or wasn't as it was supposed to be because it really took a LONG time for the band to finally come out. In fact, the magician and the stand up comedian had come out again to try and appease the audience, only to be met with a pile of boo's. Eventually you could see Roddy (the keyboard player) emerge from the side of the stage, the lights went out, and the show began.
As with many of their shows on this tour, they opened up with "Reuinted" a Peachs & Herb cover and man, they nailed it. That was followed by a pummeling of sound from The Real Thing's "From Out Of Nowhere". Each song got stronger and more powerful and I found myself in an almost euphoric state, in complete disbelief that after 15 years, I was finally getting to see these guys play again.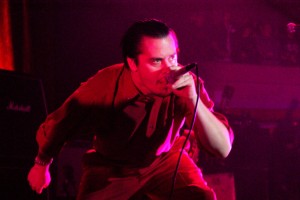 I have to tell you, for the first few songs, I got a little emotional. Not to the point of tears mind you, but I could feel a LOT of emotion bubbling up and out. It was like I was 19 all over again. The sounds of a band I have listened to for so long were right in front of me again and all of a sudden I felt myself overcome with all of this emotion and memories from days gone by. It really struck me quite powerfully. After a handful of songs, I was back to singing as loud as I could and enjoying every single minute of it.
Having met up with Puffy the night before, me and Gary knew we'd be hearing some tunes rarely played live. Indeed the third song was "Everything's Ruined" which was a huge surprise. Later on, we'd hear "Spirit" from the Introduce Yourself album, along with "Just A Man" and "Helpless". It was pretty awesome to hear and see their tunes but an even bigger treat for me in that I had never had the chance to see any of the Album Of The Year tracks live. Jon Hudson definitely did a good job of playing them as well as the old stuff.
The band bantered back here and there but the audience wasn't too lively. They were excited but not as hyped as perhaps they should be. Patton in fact invited the audience to "show me some love and spit on me". A good gag was when the band told the audience about this record industry insider secret about how they would play their last song, leave the stage, we would cheer, and they would come out again. Told us to keep that a secret and how it was called an "Encore". Some other notable references from the band were about how Roddy couldn't remember what album "Spirit" was from so Patton had to remind him that it was on the second album because he remembered being a fan.
The band played two encores. We knew the end of the first encore was not the end of the show as the lights didn't come on. The band came out and Patton told us he was getting tired and asked if someone else wanted to do the job. They broke into "We Care A Lot" and indeed, their fans did care, a lot. However, for the eagle eyed observer, you could tell that this was going to be the end very soon. When the song ended, Patton walked over to Roddy and gave a "cut" motion with his hand. A gesture meant to imply that he was nearing his end. I suspect that he knows his voice really well and knew when it was time to call it quits.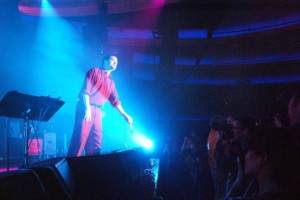 He then proceeded to tell the audience he wanted to end with a love song, asked everyone to drive safely, and then broke out into Burt Bacharach's "This Guy's In Love With You". For me, there was no song in the world that I would ever have expected to hear live from them, but for that one show, they picked that tune to be their signoff. For me, that tune meant a whole lot more than just another Faith No More cover. Why? Because that was the song me and Tamara had our last dance to at our wedding. That was the song I sang to her while we danced our last dance together on October 22nd, 2005. Tamara had said to me months before I left, "I wonder if they'll play our song" and I had told her the odds were slim to none. So although Tamara was back in Moncton, she was with me while I watched the band play their last tune. As a side note, long time FNM fan Danny DeVito appeared onstage briefly as he danced across the stage to this tune.
The band waved goodbye, the lights came on, and it was all over. Wow. Everything after that was pretty minor. We went back to the hotel, fell asleep, got up the next morning, had some breakfast, and started our journey back home. Ben Stein was on the plane from LA to Toronto which was pretty cool. By the time I got home, I was ready to sleep for 12 hours. Thankfully, as awesome as my wife is, she let me sleep til 12:30 the next day, making sure the kids didn't know I had come home yet and giving me the rest I needed.
For this trip, there was a lot of emotional connection to the concert, both to my youth and to my current life. Although when the show started, I was thrown back to my high school and college days and felt like the whacko I used to be, when the show ended, it was like a reminder of what I have now. Hearing mine and Tamara's song at that concert was a completely a total coincidence, but it served as a very loud and blatant reminder to me to be happy for the things I have now. At that moment, I really wish Tamara had been there. But, I did film part of it and got to tell her the story of getting to see them play our song live. It was pretty awesome.
As a whole, the trip was awesome. The only downside was having to walk away from it all. After having lived it up with a wicked car, a wicked hotel room, a wicked concert, a wicked chance meeting with the band, when the reality set in that I would return to Moncton, it seemed a little sad. Don't get me wrong, I was glad to come home, but when you experience such a high, there is always a bit of disappointment or sadness when you have to return to reality. I do however have an even larger appreciation for the band than I ever did before and hopefully others will enjoy listening to their music as much as I have.
Huge thanks to Tamara for supporting me on going on this trip. Another big thanks to Gary for coming with me (you can read his side of the story on his blog). It was a hell of a trip, and an awesome time. I wish all my travels were as exciting as this.
– Matt
P.S. The two FNM shots were borrowed from this blog. Nice story.